A perfect pair:

Pinot Noir &
Four Cheese-Stuffed Portobellos
Enjoy with Del Rio's 2009 Pinot Noir - Click here to purchase.
INGREDIENTS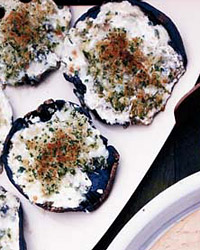 Finely grated zest of 2 lemons
1 tablespoon chopped basil
4 garlic cloves, minced
1 cup panko
3 tablespoons chopped parsley
Ten 3- to 4-inch-wide portobello mushroom caps, black gills removed
3 tablespoons extra-virgin olive oil, plus more for brushing
Salt and freshly ground pepper
3 ounces of shredded Gruyère
3 ounces of shredded Muenster
3 ounces of shredded mozzarella
3 ounces of shredded Manchego

DIRECTIONS
1. Preheat the oven to 375°. Brush the mushroom caps on both sides with olive oil and season with salt and pepper. Place on a large rimmed baking sheet, gill side down, and bake until tender, about 20 minutes, then turn gill side up.
2. In a large bowl, combine the cheeses with the lemon zest, basil, three-fourths of the minced garlic and 1 tablespoon of the olive oil. Season the chees
e filling with salt and pepper. Mound the stuffing onto the mushroom caps. Bake the stuffed mushrooms until the cheese is melted, about 5 minutes.
3. Preheat the broiler. Meanwhile, in a small bowl, mix the panko and parsley with the remaining minced garlic and 2 tablespoons of olive oil. Sprinkle the panko mixture over the mushrooms and broil 4 inches from the heat until browned, about 2 minutes. Serve right away.
MAKE AHEAD The stuffed mushrooms can be refrigerated overnight before baking.